1200 Tutors in 12 Weeks
Wisconsin Literacy Supports Volunteer Literacy Tutors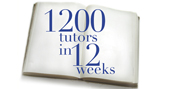 This fall Wisconsin Literacy and its member agencies have a special 1200 Tutors in 12 Weeks campaign to recruit and train new volunteer tutors from September 8 (International Literacy Day) through December 1. This special campaign draws attention to the need for volunteer tutors in order to reduce waiting lists of learners at our member agencies.  Help us make 2016 another successful training year.  To find a tutor training near you, click here!
Here is the list of Wisconsin Literacy member agencies that participated in our 2016 campaign:
Northeast:
Northwest:
Southeast:
Southwest/South Central:
Statewide:
This annual 12-week campaign, sponsored by Dollar General Foundation, with additional funding from American Family Insurance and the Green Bay Packers Foundation, provides a venue for Wisconsin citizens to give the gift of literacy to their communities. A growing number of these professionally trained volunteer tutors play an important part in helping dislocated workers re-enter the workforce. Most tutors volunteer one-to-three hours per week, often providing life-changing results for adult learners. In smaller, more individualized settings, our member agencies offer basic skills to help adults get back to work with improved computer and math skills and basic literacy services. With adequate preparation, adult students are encouraged to enter the Wisconsin Technical College System and/or to explore career pathways.
More than 1.5 million Wisconsin residents are in need of literacy services. Become part of the solution by signing up to be a volunteer tutor today. Visit our Find a Program page or call 608.257.1655.
Major Sponsors:
Additional Sponsors: